Mt Washington Co Shiny Burmese Footed Vase-Victorian-Cache Pot-Pontil Prunt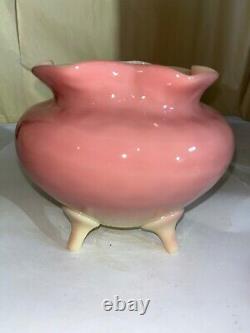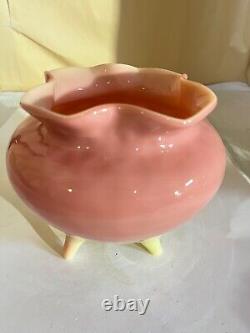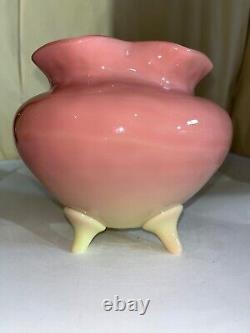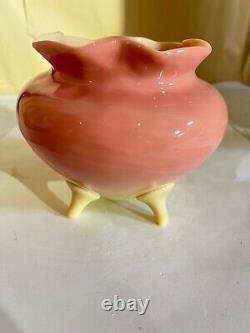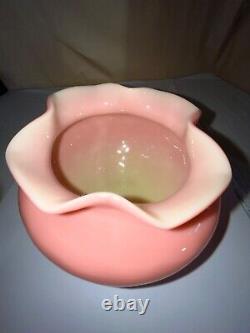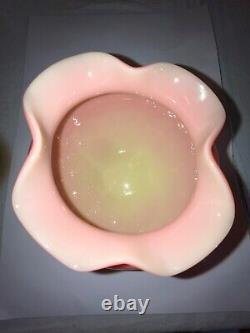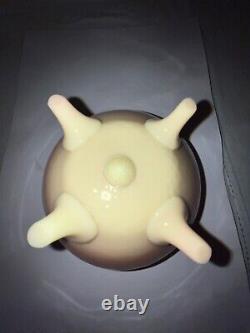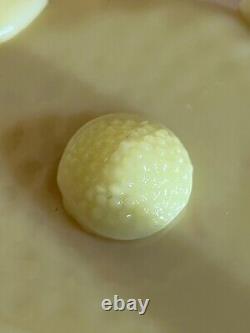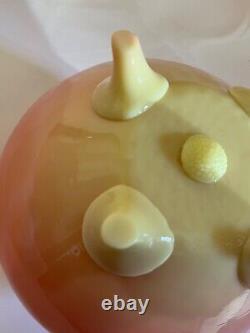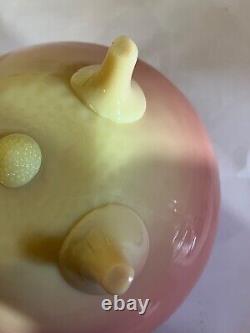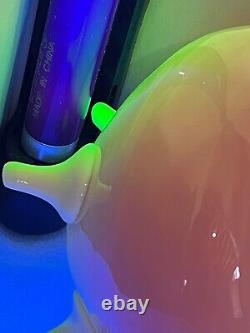 The company developed the formula for burmese glass in 1885 where it soon gained the attention of Queen Victoria in England. A year later, in 1886, the company granted the English firm Thomas Webb and Sons a license to manufacture this type of glass.
The Webb version became known as Queens Burmese Ware, a designation sometimes found on the bottom of individual examples. Both companies produced numerous shapes and sizes of this type of glass in decorated and plain versions all of which have become extremely popular in the collecting world today. Another aspect of this type of glass is that it contains uranium oxide dust reacting in the presence of ultraviolet light. The pink hue at the top of the examples was caused by the small amounts of gold incorporated into the glass mix and subsequently the pieces fired a second time after the initial cooling. The second heating cause a chemical reaction and a color change in the glass. Usually found with a smooth satin finish, less often shiny burmese examples hit the marketplace. A special treat, this fine example has a rich pink hue encompassing the body with the bottom and the four applied feet in a creamy yellow color. On the very bottom, a raspberry prunt sits in the location of the pontil. As one picture reveals, the yellow base reacts in the presence of ultraviolet light. The piece measures 5 1/2" tall, approximately 6" across the body and 5 1/4 across the widest span of the opening. After thorough examination and cleaning, I can find no chips, cracks, damage or repairs.
I see no staining on the inside due to use nor any minor damage to the four applied feet at the base. A spectacular example of victorian art glass by the Mount Washington firm of New Bedford, Massachusetts. Please view all pictures as they are considered part of the description.
Please check back to my listings often as I will be posting numerous fine examples of glass, pottery and porcelain in the near future.