French Victorian Crystal Vases Cut Glas Stepped Base 19th century Baccarat Style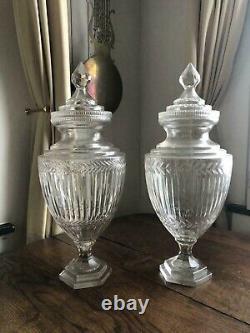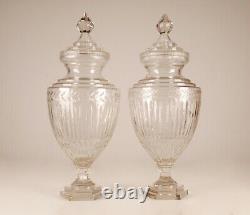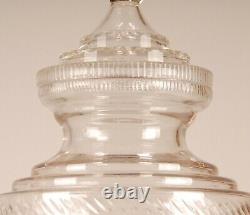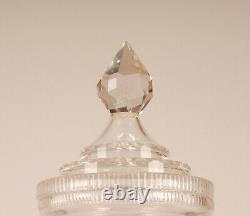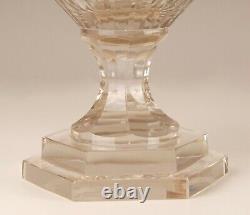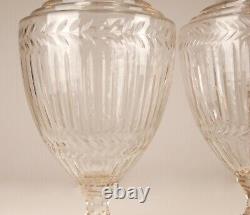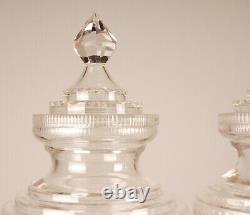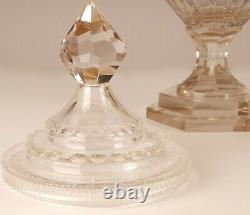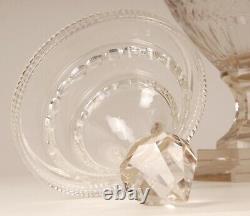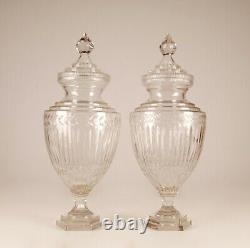 A large pair French Baccarat style vases. Composed of a tall lid with cut crystal finial and ribbed decoration surmounting a fluted baluster body.
With an incised laurel leaf decorative band sat upon a hexagonal plate mounted glass stepped base. To be dated end 19th begin 20th century.
9.4"W × 9.4"D × 22.8H. 14 days after receiving the item all sales are final. Any deterioration in the original condition which results in a value decrease of the item. Deducted on equel basis from the amount due to the client. While we are not liable for these additional charges and have no control over them, we do encourage buyers to research these prior to purchasing items from us.
Example given check items on: loose parts, cracks, loose or missing screws, loose crystal or glass ornaments or pendants, electric wires etc. Admirable appearance, natural time gained patine, skilled craftsmanship or historical importance. Please be aware that these works are antique or vintage and as such may be expected to show some signs of use, age and w ear.