Antique French Victorian Mourning Hair Art Convex Glass Frame Reliquary A Crown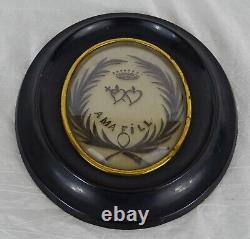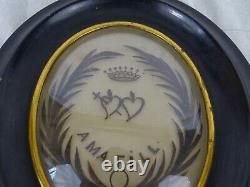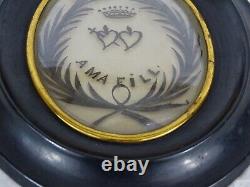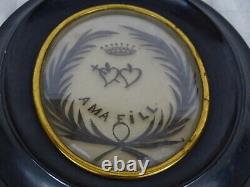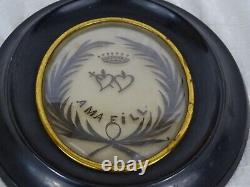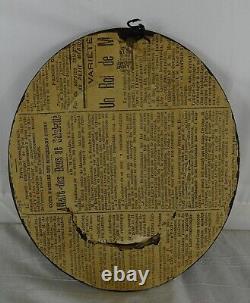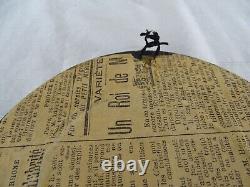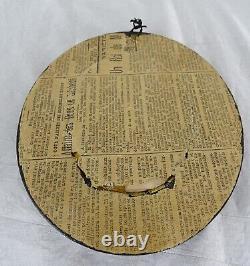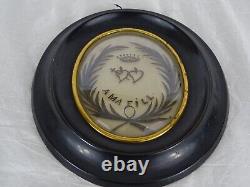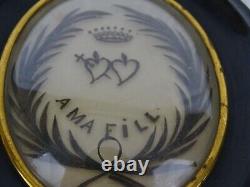 ANTIQUE FRENCH VICTORIAN MOURNING HAIR ART CONVEX GLASS FRAME RELIQUARY. An antique French Napoleon III era sentimental hair artwork mourning memento.
Entirely crafted from hair as a lasting memento of a lost loved one. Titled A MA FILLE (to my daugther) decorated with two hearts surmounted by a crown (ma fille letter E is missing). Set under a large domed convex glass and housed within an ebonized wooden frame with brass surround. In overall good antique condition with some wear to the wooden frame. No damage to the large domed glass covering.
To the reverse is an old paper backing and it miss a brass loop ring for hanging display (replaced by a piece of fabric). A large piece, the oval frame measures (18 cm) 7.1" height x (15.5 cm) 6.1" width. The tradition of keeping locks of a loved one's hair might seem a bit of a macabre curiosity, but this novelty was actually quite popular and precious at a time when photography was costly. Specialized shops devoted to this art medium throughout Europe, and France, grand fabriques d'ouvrages en cheveux where artistes-dessinateurs spent countless hours expertly working hair commissioned into flowers, curls, ribbons, as is the case here.
We are very pleased to help. Please check with your country?