Antique Set of MARY GREGORY ART VICTORIAN GLASS CRANBERRY Pitcher and 2 Cups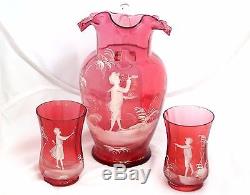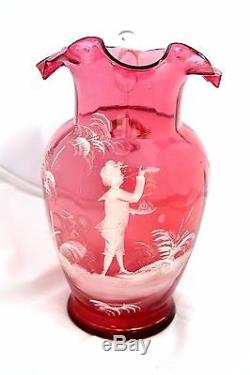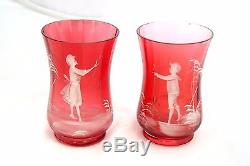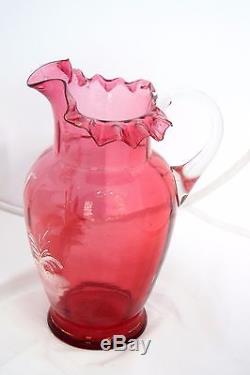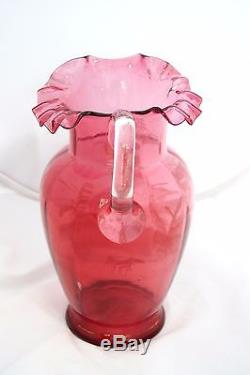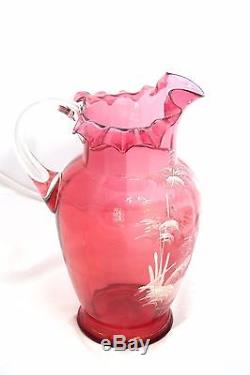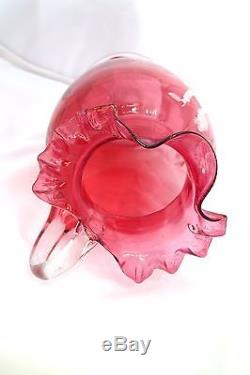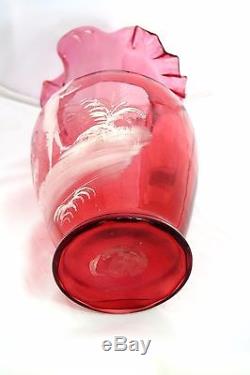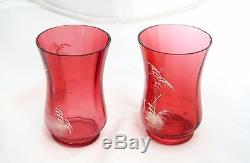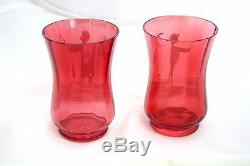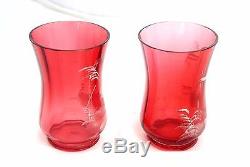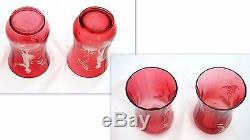 Antique Set of MARY GREGORY ART GLASS CRANBERRY Pitcher and 2 Cups. The Set is in very good condition for it's age. You can see everything from the photos. Size of the Pitcher: 23x15x12 cm / 9x6x4.7 inches. Size of a Cup: 10x7 cm / 4x2.7 inches.
Mary Gregory glass barber bottle. Mary Gregory jug above: Mary Gregory cranberry glass jug.
The distinguishing feature of Mary Gregory glass is the stylised white enamel painting usually of a child in an outdoor setting, playing with such things as butterfly nets, bubbles, fishing rods, or hoops. The trees and foliage often have a typical "feathered" style, the figure is oddly old-fashioned in its proportions, and the enamel is fired onto the glass. This kind of decoration developed from the "painted cameo" glass produced in Europe after about 1870 which itself was developed to compete with the very popular carved cameo from England. Some very beautiful classical scenes in white enamel on Victorian glass are sometimes called "Mary Gregory" glass as the alternative "painted cameo" is not a popular name.
Old Mary Gregory glass is often in the characteristic Victorian colours of cranberry, or bottle green (like the two examples on the left) or clear. The quality of the painting is often higher than modern versions, with "double fired" highlights on key features and around the edges of the clothing. The quality of the glass may be thinner and poorer than some of today's Mary Gregory glass, and it is almost always mouth blown. There is rarely any colour other than white in the painting, although some post-war Mary Gregory pieces have crude dark lines to emphasise mouth, nose and eyes, and dark hair. There are even Mary Gregory pieces with flesh-coloured faces. Once you have seen a few pieces of Mary Gregory glass you will recognise it easily. It can be difficult to date (see our list of tips below). The easy part is defining what Mary Gregory glass looks like and how to recognise it.
The hard part is saying who made it and where. For a long time it was believed that Mary Gregory glass was produced by the Boston and Sandwich Glass Company, USA, and painted by a decorator called Mary Gregory who was employed by the company in the 1880's. This story began in the 1920's when the name Mary Gregory Glass was first coined. Extensive research has revealed that although there was a decorator of this name working for the Boston and Sandwich Glass Company at that time, Mary Gregory glass was never made by that company. The "Mary Gregory" designs originated in Europe, probably in Bohemia some time before 1880.
Old catalogues of some Bohemian and German glassworks show these designs. New Mary Gregory glass is still being made in Europe and in the USA and possibly in other glass producing countries.
The Westmoreland Glass Company in the USA introduced "Mary Gregory" designs on pressed glass from 1957 until they closed in 1984. The Jeanette Company in the USA has been producing "Mary Gregory" glass since 1982. Their pieces are also pressed glass. Fenton Art Glass Company in the USA has also produced some fine pieces with painted cameo decoration, some of it in Mary Gregory style.
Mary Gregory-style decoration is no guarantee that a piece is old. It can be very difficult to be sure that a piece is old, so we have put together the following list of tips for dating Mary Gregory glass. There are even cases of genuine Victorian glass having a Mary Gregory decoration added later with the aim of increasing it's value, and these are very difficult to detect. PLEASE SEND US YOUR BEST OFFERS AND FEEL FREE TO ASK ANY QUESTIONS.
The item "Antique Set of MARY GREGORY ART VICTORIAN GLASS CRANBERRY Pitcher and 2 Cups" is in sale since Tuesday, May 23, 2017. This item is in the category "Pottery & Glass\Glass\Art Glass\Other Art Glass". The seller is "antique_heaven2016" and is located in SOFIA,1000. This item can be shipped worldwide.